Listening to: It's My Life- No Doubt.
This weekend has taken it all out of me- I wish I had two more days to relax.
Friday was two friends going away night- there off to India for 6 months then to Canada permanently. To say goodbye a few friends who played in bands all got together for a mini festival night. After working so much last week I could barely keep my eyes open even with two cans of coke. I hate goodbyes I never really know what to say but I'm so happy for them.
Yesterday I went shopping- mostly to buy a sleep bra but also to return a jacket. Has anyone else had major problems with ordering online from New Look? It was a nightmare! It took 10 attempts to pay for my item then I didn't get a confirmation until after my jacket was delivered :( by this time I had bought another jacket elsewhere which I'm glad I did- as the "white" jacket ended up being a cream colour. I wont be shopping online there again but they still remain to be one of my favourite stores.
Last night I acted as stage manager for my friends charity night where she organized an amazing burlesque night. The hosts Sadie Sinner and Miss C were amazing- as well as all the acts! Then we all danced our bums off. The venue was to capacity and it was just an amazing night even if I had to use all the force in my arms (zero) to move equipment between acts and now my arms are practically falling off, and I stepped on a lot of toes and pushed a lot people. The best part I'd she reached me target (nearly £2000) and is all set to run the marathon for the Pilgrims Hospice- if you want info/ to donate here's her
just giving page.
I only managed a few iPhone snaps on the night (sorry) but it was unbelievable! I might even start a career as a stage manager.
This is what I wore to the gig on Friday- as I didn't have time to snap a non sweaty version if yesterday's look (my motel rocks dress and studded garters). I had straightened my hair for the first time in months and whenever I do I feel a little like a mental health patient so I was running my hands through it constantly.
Tights & beaded headband: Primark
Bag: River Island
Belt: New Look
Creepers: Camden market (similar here)
Coat: New Look
I've been wearing my studded garters a lot lately, and they've been going down a treat. People have been asking where I bought them- they're a DIY but there are a variety online. For this sort of thing esty is the best and all 3 are from there and can be found
here
,
here
, and
here
.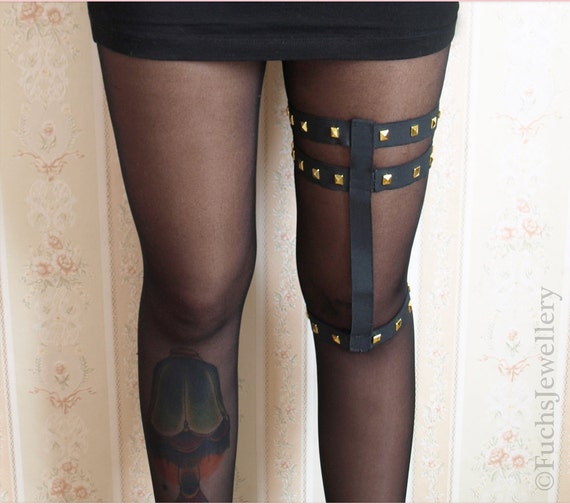 Sorry I have been absent from blogging this weekend but the rest if today is fir replying to comments and reading blogs :)
Jodie x