Who ever said weekends where meant for relaxing was wrong- today I'm exhausted! I've barely been able to keep my eyes open.
Yesterday me, my sister's and mum went to shepherds Bush for Wedding shopping, mostly buying my mum an amazing wide brim hat that is absolutely awesome! Plus plenty of wedding chat. Well worth rolling back to Essex near midnight. Although I ended up missing the Gogo Phillip x Malibu event (which I was VERY excited about seeing) bridesmaids duty came first.
Saturday was a lot more relaxing after picking up Dylan from the groomers we took him for a walk around a park. He got tired quickly (but not as quick as you would expect an 11 year old dog with one lung to get) so after taking him home we ended walking around a different park and a petting zoo :)
These photos where not taken in Thailand as it may seem but around the park :)
Hat: H&M
Silk slip worn as dress: Charity Shop- originally Ann Summers
Boots: Buffalo (similar here)
Oversized Denim Jacket: Charity Shop (similar here)
Bag: Gift
Bracelet: Topshop and gifts
Necklace: EBay
Chris spotted the stairway across a main road almost completely hidden by trees and its perfect! Instantly we knew the photos where looking amazing while capturing them (we took nearly 120) and Chris was so confident about them he was the one in charge telling me what he wanted to take, and even gave a passing car a dirty look for getting in the way.
This is the sort of outfit I had in mind when I made my crop top- as an extra layer over a dress. Unfortunately my chest seems to have expanded and this dress is a little short now so there was a few flashing incidents on these stairs. Standing up its fine but I'm thinking of investing in some cycling shorts none the less. Plus I love it's skater style.
I love slips as a dress. I know it's lingerie as outer wear and not everyone's cup of tea but it's definitely my cup if tea. I love the lace and silk slip from
Figleaves
, and this amazing lace trimmed slip from
Simply Be
. Plus
Marks and Spencer
have amazing coloured slips too (like this mint slip).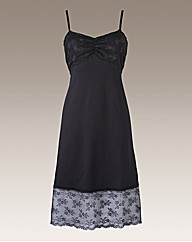 I'm still in love with my buffalo boots, now called my "moon boots", they're just so comfortable! The dress I got from a charity shop for one whole pound! And is so easy to wear but I do get the occasional stare. My hat was from H&M and I know hats aren't really s/s attire but they're hear to stay in my books.
I hope you all had a good weekend- did you get up to anything fun?
Jodie x