I can't stop spending money, as you can see I have slightly darker but more intense colour -and said goodbye to the blond as well as quite a bit of the length. Having a sister as a hairdresser it all cost less than expected (zero) so I used said money on myself instead. Hello New pinafore dress.
Leather Look Dungaree Dress: Parisian
Crop top: DIY
Socks: Primark
Bag: River Island
Necklace: Gift
Brackets: Topshop, Prairie Charms and gifts
I wore this for a trip shopping, well a planned trip. We were heading to Lakeside but when we saw the standstill on the M25 we took the alternate exit and ended up driving about for a few hours instead. Finishing the day with a walk around the park.
This dungaree dress was a whopping £10!!!! I bought it from one of those cheap shops that usually only stay in business for about 6 weeks and blare out R'n'b and Dub Step. I wandered in attracted by a monotone co-ord (that didn't fit) and stayed for a beyond track wandering around the rest of their stock. This was hidden in the furthest corner and HAD to be mine!
It's a little on the short side (as it's lifted up over my boobies) but beautiful. New Look do sell Parisian in their label lounge but don't have this pinafore (unless they all have sold out) but I have found it from
Chiarafashion
. It's not a website I've used before but the dress is an exact match.
Like I mentioned New Look do Sell Parisian clothing and
this pinafor
e is a very close match. There are hundreds of pinafores on the market but my favourite has to be this one from
River Island
(I love River Island). It if you do fancy a leather look pinafore
SheLikes
have this to offer :)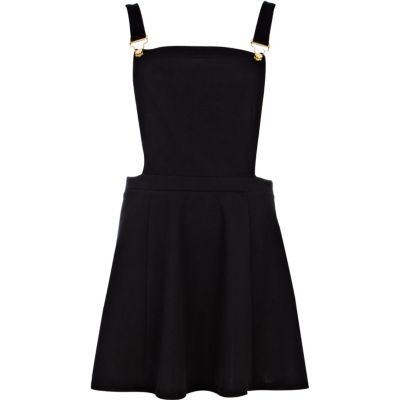 My
shoes
I bought using a Boohoo voucher I received from
Lost In The Haze
giveaway. I felt like a complete change from the norm and bought White heels- read it again: white! They're a far cry from my usual black but I love them. They're very "Essex" and squeak for an unknown reason but I love them. Although they're awful to wear on uneven ground. I fell into this tree (not me gripping the trunk for dear life) and couldn't get up again. Chris just stood and laughed.
So I ended up taking the shoes off walking around the park.
Jodie x
P.s. Can we all appreciate the amazing photos taken by Chris again? I'm so proud of him :)