I've missed my mid week days off, despite the fact I've probably got the only health care job in the world that's 9-5 I miss agency work :( Yesterday was a very rare mid week day off due to a complete lack of clinics and not wanting to lose any annual leave. I obviously spent it shopping.
I had last month's wages to spend and got paid so it was rude not to shop :)
I bought a fair bit (I'm not a fan of hauls they make me jealous) but will all be up outfit posts soon. What I was searching for I was completely unable to find. I'm desperate for a pair of Dr Martens Eleanor in black- here they are in
purple
(which I love),
yellow
,
blue
and
red
(also love) but black are my favourite. They seem to be sold out every physical shop I visit and on the DM site but if anyone knows of a physical store in Essex/Hereford/London or online let me know. They will be mine.
My parents being away the weather here in the UK is wet and cold as always when they leave. (Is it ok that I'm not really missing my parents? I'm just missing my dog. He's gone to my nans to be spoilt and its upsetting walking through the door and he's not there to meet me.) Anyway the main reason I'm sharing this is being cold for summer yesterday I decided to layer up a la
Kayla Hadlington
.
Shirt: Charity Shop
Belt: New Look
Tights and socks: Primark
Bag: River Island
Oversized Denim Jacket: Charity Shop
Finally I'm sharing my amazing
Nikki Lipstick Dollcult leader tee :
) I've been noticing a rip off a as of late (along with a few other if her designs) but the original is always the best. I was quite annoyed that when it arrived I had a customs fee on but I blame this entirely on Royal Mail (it was a couple of pennies tax and £8 handling fee!!- which I've heard you can claim back but no way near as easily as RM said you can) but I've not heard anyone else have this issue so I'm giving my honest account to go to the best.
Plus not only is it available as a
tee
(which I preferred) but also as a
sweater
and as a
cropped tee
(the most famous item of Nikki Lipstick clothing). Plus it also comes in
white
with a coloured doll.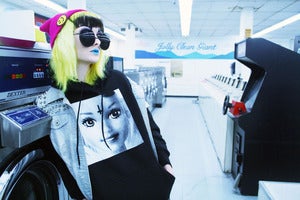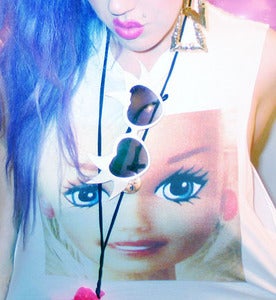 I layers it over the red shirt as I really fancied a cool collar so through in a pair of red socks and my favourite jacket. I fancied a red bag so this River Island number (which is super cute but likes to turn upside down and throw all my stuff on the floor) and paired my leopard belt to match.
The pressed daisy necklace dropped through my door just as I was about to leave (perfect timing) and I'm so happy.
Paige
is a goddess! I'm beyond happy with it :) I want to do a completely separate post on her store as just everything is perfect so watch this space.
Jodie x