Have you ever had so many ideas in you head you struggle to put them to paper? My head feels like it's going to explode with blog ideas (some are going to be a big difference and I feel mean for teasing you) and I can't wait to share. It's probably good I've turned into holiday mode at work (plus I want to leave) because I'm filling my head with ideas there's no room for work ideas (that always get ignored anyway).
I'm trying to completely reset my brain in ways if thinking into being all about me. I want to only concentrate on me from now on, so my hair cut on Friday can't come any slower! Am I the only one who looks at old photos/clothes and think "why aren't I like that anymore?"
With the wedding, my boyfriend moving and everything at work I've lost some me that I desperately want back.
High Waist Skater Skirt: Topshop
Boots: Buffalo
Necklace: Gogo Philip
Headscarf: Claire's
Bag c/o La Redoute
Belt: New Look
I can't help but think I look ever so mature and sensible in my
new coat
- I barely recognised myself. Of course I had to pair it with my monster Buffalo Boots and return to my love if all things headscarf. Young habits die hard and all of that.
This is something new but feels like old to me. I put all this on and felt like I've owned this coat all my life. It makes me very happy.
I bought this coat after MUCH deliberation I finally decided I wanted a boyfriend coat for the season. Every year I buy a new one ( to add to my collection of furs) and every year they last that season and I never want to wear it again. It's honestly my one guilty act I just don't keep costs. This time I wanted one that will last so I went for a black over sized smart looking number that I HOPE will last.
I was considering buying "that" pink Topshop coat but I think this black one will last longer.
It's perfect! It's the perfect watch for autumn and spring but I can also put a jumper underneath for the winter chill :)
I bought it from
New Look via ASOS
and I strongly recommend it- plus ASOS has the best delivery I order it one evening and its at my house two days later. Pretty much next day delivery :) and everything I've bought is spot on with sizes. But if you're looking for something a little warmer you can't go wrong with this
Topshop boyfriend jacket
, or this one from
River Island
with the awesome rolled sleeves.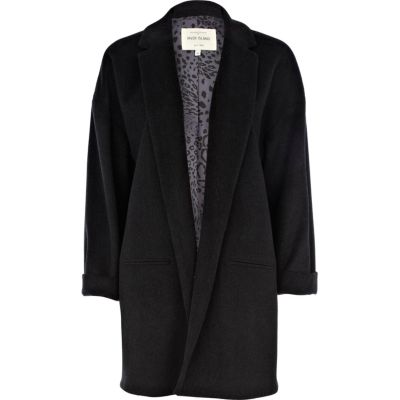 Expect to see a lot of my new coat these winter months.
Jodie x